This is the master mix post for
cherith's
originalbigbang story "Until You Belong To Me". It's always lovely making a mix for original fiction; I feel like I'm starting with a clean slate; there's nothing else to go by, I've just got to wing it. That being said, I hope you all enjoy this mix as much as I enjoyed making it. And be sure to read the story! Also, the folder for the mix says "Sorrow's Story", because that was the working title when I got the fic. Just so you don't worry that I've uploaded the wrong thing :P

Thanks to
cherith for being so enthusiastic and encouraging and for writing such a wonderful story (BIG HUGS), and to the mods of
originalbigbang for being so awesome and putting everything together. Here are the links for the fic itself, which I highly recommend you all go and read: part one & part two.

Twelve songs, all in mp3 format, uploaded in one rar. If you have any trouble downloading this zip, or would like individual songs uploaded, don't be afraid to tell me! As always, please leave a comment if you download, and do not upload elsewhere or claim as your own.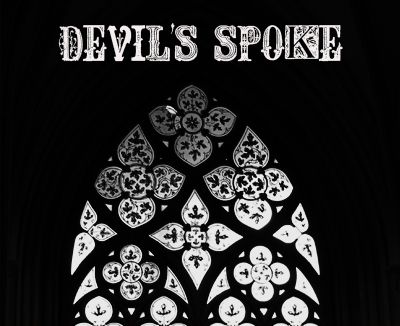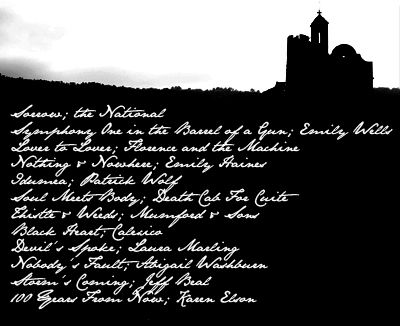 SORROW | the national
Sorrow found me when I was young / Sorrow waited, sorrow won
SYMPHONY ONE | emily wells
Oh my love / Nothing's gonna stop us now
Except the long, long lonely
LOVER TO LOVER | florence + the machine
But I believe, I believe / There's no salvation for me now
No space among the clouds / And I feel I'm heading down
But that's alright
NOTHING & NOWHERE | emily haines
How you gonna hide till you disappear? / Because nothing and nowhere is golden
IDUMEA | patrick wolf
And am I born to die? / To lay this body down?
SOUL MEETS BODY | death cab for cutie
I do believe it's true / That there are roads left in both of our shoes
But if the silence takes you / Then I hope it takes me too
THISTLE & WEEDS | mumford & sons
I begged you to hear me, there's more than flesh and bones
Let the dead bury the dead, they will come out in droves
But take the spade from my hands and fill in the holes you've made
BLACK HEART | calexico
Spring is rusted shut, faith's coiled and cracked / Apparitions worth their weight in gold
Scratched in metal, name erodes away / Hands are scarred, heart is charred
Burnt though, and ashen
DEVIL'S SPOKE | laura marling
But I am your keeper / And I will hold your face away from light
I am yours till they come
NOBODY'S FAULT | abigail washburn
Nobody's fault but mine / Nobody's fault but mine
If I die and my soul be lost / Nobody's fault but mine
HELLO CRUEL WORLD | library voices
I wonder how things used to be / Before memories replaced reality
STORM'S COMING | jeff beal
[instrumental]
100 YEARS FROM NOW | karen elson
A hundred years from now, dear / We shall not care at all
It will not matter then, dear
♫ mediafire [
ZIP
] | 71.7MB
Current Mood:

ditzy